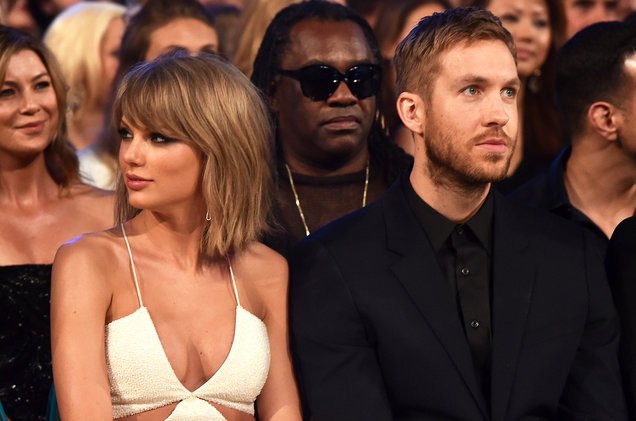 For real, this has been a rumor floating around the internet since the song was first released. When I first read it, I thought that it had to be just simply a rumor, Taylor would never give someone else credit for her own work. Looks like she did though! She gave Calvin that track and well, we know what happened from there. He recorded it with Rihanna and they now have another smash hit on their hands.
It makes sense why Taylor was promoting it so heavily though, wearing it and sharing videos of the performance from Coachella, it all makes sense now. What a marketing brainiac! Taylor knows exactly how to sell, and her bank account proves it!
According to TMZ , Taylor recorded the song on her Iphone using just the piano as background and Calvin loved it, so he went and added a beat then put Rihanna on the track.
They both knew the song would be a hit, but Taylor wrote it for Calvin and both agreed it was a bad idea to let the world know they collaborated as a couple … it would overshadow the song.

So Taylor, who kept the publishing rights, used the pseudonym Nils Sjoberg on the credits.

Fast forward to April 29th. Calvin released the song with Rihanna and it became an instant hit. It's been at #1 or #2 on the Dance/Electronic chart for 9 weeks, and is #5 on the Billboard 100.

The problem in the relationship came the day the song was released. Calvin appeared on Ryan Seacrest's radio show and Ryan asked, "Will you do a collaboration with your girlfriend?" Calvin responded, "You know we haven't even spoken about it. I can't see it happening though."
And then that was the end of their relationship, how tragic. Celebrities are so tragic, did you know that?
In case you were wondering, Taylor has the right to not allow Calvin or Rihanna to perform the song, so far she hasn't done that. Calvin did it to Rita Ora though when they broke up, I mean karma is a sneaky bitch so maybe Taylor will decide that he can't play it live.
This break up has so many twists and turns, people won't stop talking about it. It's almost like they had everything planned out, right?
Also the name that Taylor chose was Nils Sjoberg, looks like next time she ghost writes she is going to need a different Swedish name.
It ain't over yet! Calvin slams Taylor on Twitter! 
Update! Katy Perry decided to throw some shade!
Visit: Celebrities Are Tragic || Facebook || Twitter