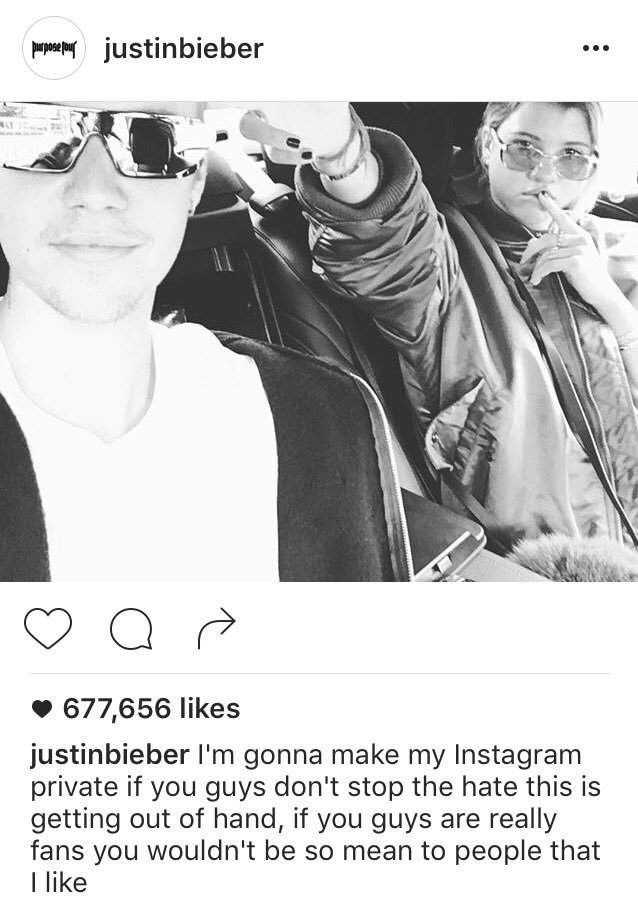 Justin Bieber is currently, most likely, not yet confirmed, dating Lionel Richie's daughter Sofia Richie, and Beliebers aren't happy about it. Obviously Beliebers are deranged to begin with but Justin has had it with the negative comments that have been posted on his Instagram account after seemingly becoming Instagram official with the 17 year old model.
Bieber is straight up fed up with his fans and told them that he would make his account private if they continued to be so hateful. I understand that, I can see where he is coming from. For once, I actually agree with Bieber, can you believe that? Maybe just tell them to not comment mean things, rather than trying to have some kind of abusive power over your fans. That may work better.
Instead of the Beliebers being understanding they started a hashtag on Twitter, because that's what you do now. They started the #RIPBeliebers trend because Justin called them fans instead of Beliebers for the first time. How dare he?!
Also, I am about 90% sure he will put his account on private then post a long tweet about how he isn't a zoo animal again. What do you think?
Visit: Celebrities Are Tragic || Facebook || Twitter