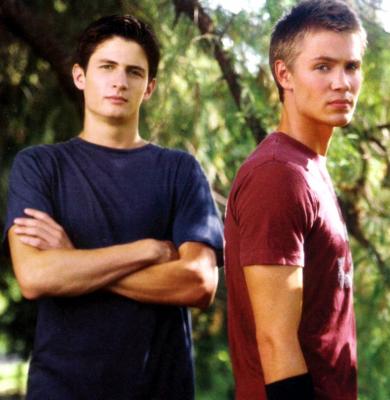 Oh the Scott brothers, most women in their early 20's first crushes. Well not first crushes, but maybe first fictional character obsession? Maybe I am just talking about myself, but I don't care, you know what I am saying. Personally, I was always way more of a Nathan girl because Lucas was a low key fuck boy, but I can respect either choice.
Over the weekend James Lafferty and Chad Michael Murray hung out in Chicago at a 'One Tree Hill' fan convention. The cast seems to get together fairly often for these events but rarely do both Scott brothers go together. I think it has only happened one other time.
Luckily for us, Chad Micheal Murray was able to sneak in a selfie with James Lafferty, and both men seriously are just getting better looking with age, it doesn't even make sense how attractive they are.
Even though I know it will probably never happen, I will always hope that Netflix decides to bring this show back, just for  a few episodes.
On a more important note though. Which would you rather? James or Chad? I have to go with James all the way.
Visit: Celebrities Are Tragic || Facebook || Twitter