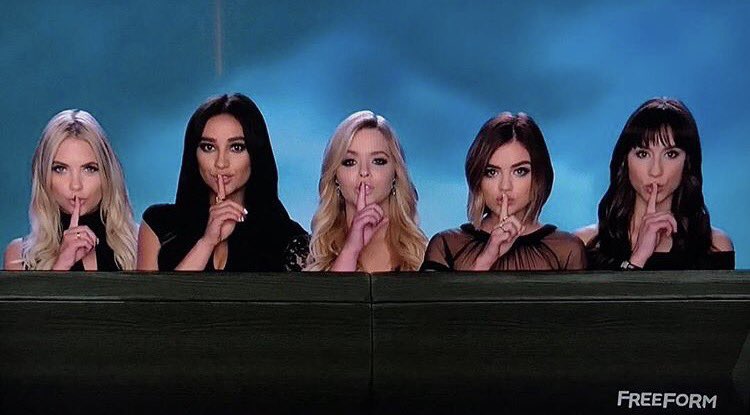 Now that I have had time to process the finale of 'Pretty Little Liars', a show that definitely went on longer than anyone thought it would, I have some thoughts.
This post contains spoilers so if you don't want the series to be spoiled, keep scrolling.
There is your warning!
Okay, last night we were almost tricked into thinking that A.D. was Melissa, but we all knew that they wouldn't give away the big reveal like 20 minutes into the finale. That would be stupid.
Marlene King then tried to trick us into thinking that A.D. was Mona, again, we already knew that wasn't going to happen.
Before we get to the big reveal let's talk about the first hour of the show.
It was okay, I mean it was like most other 'Pretty Little Liars' episodes, some suspense, some humor. It was great.
Then, Aria starts freaking out that she can't marry Ezra, which was kind of out of the blue. Let's be clear, I love Ezria as a couple even though their relationship was super illegal for most of the series.
Okay, I don't really want to go blow by blow of the whole episode so I won't.
The best part of the entire episode happened at Aria's wedding rehearsal when all the moms got drunk. Honestly, the moms were probably one of my favorite parts of the show I mean I love Mrs.Marin. So watching them all get drunk and making Spencer drive them home? That's fucking awesome, so I am glad that happened.
Then at the start of hour two we found out who the real A.D. was, Alex Drake, Spencer's twin sister. That's right while Spencer was being tormented in the United States she had a twin sister living it up as a bartender in England.
I hated that storyline, I just wanted to say that. The twin storyline leaves so many fucking plot holes!
Marlene just couldn't make up her fucking mind and instead of making any kind of sense of this show, she decided to give Spencer a twin and make her have an accent.
From what I gathered, Charlotte was always A but once Charlotte died, Alex took over.
Truthfully I didn't have very high expectations of the finale because if you've watched this show at all you knew that there were constantly plot holes that writers wanted to move on from.
The show was still iconic, people will still talk about it for years to come but I would say this is one of my biggest let downs of a series finale. The biggest of course being 'Gossip Girl' but I don't even want to talk about that.
Although she wont I think that Troian deserves some actual awards for her acting in the finale. I mean, Teen Choice Awards are great but she deserves more.
Thank you PLL for constantly pissing me off but always making me come back for more, I will miss our love/hate relationship.
Visit: Celebrities Are Tragic || Facebook || Twitter || Instagram