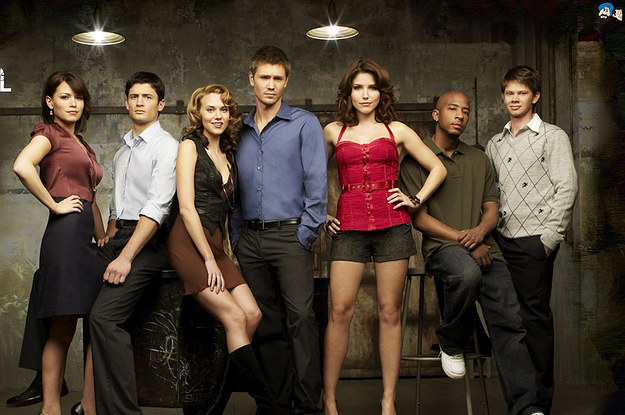 On April 4, 2012 the world said goodnight to 'One Tree Hill'. Arguably one of the best teen dramas to ever grace television. Even if you didn't watch the show while it aired, there is a good chance that you watched it on Netflix, just to check it out of course.
There are some shows that just stick with you, they stay with you while you grow and in way you feel as though the show grows along with you. That is 'One Tree Hill' for me. There were moments where I felt so alone then would hear a quote on 'One Tree Hill' and it was like someone else got it.
Honestly, I was obsessed with the show. My mom and I flew down to North Carolina to meet the cast for my 16th birthday. It was pretty insane.
Between the love triangles, the heartbreaks, and every weird stalker storyline, this show had heart. It was a little show that was on the break of cancellation but somehow was able to stick it out for 9 season. Sure it lasted too long, the last two seasons sucked, but it still had heart.
So here are some of my favorite quotes from the show, just because sometimes you need to hear them.
"At this moment there are 6,470,818,671 people in the world. Some are running scared. Some are coming home. Some tell lies to make it through the day. Others are just now facing the truth. Some are evil men, at war with good. And some are good, struggling with evil. Six billion people in the world. Six billion souls. And sometimes — all you need is one."
"We fell in love, and at some point, the people we love forgot to love us back."
"Death is not the greatest loss in life. The greatest loss is what dies inside of us while we live."
"Does this darkness have a name? This cruelty, this hatred, how did it find us? Did it steal into our lives or did we seek it out and embrace it? What happened to us that we now send our children into the world like we send young men to war, hoping for their safe return, but knowing that some would be lost along the way. When did we lose our way? Consumed by the shadows. Swallowed whole by the darkness. Does this darkness have a name? Is it your name?"
"That pain in your stomach, that pain in your heart, it goes away. That voice in your head that's saying there's no way out, it's wrong Jimmy. Would you please, please just believe me. It gets better."
"There comes a time when every life goes off course. In this desperate moment you must choose your direction. Will you fight to stay on the path while others tell you who you are? Or will you label yourself? Will you be honored by your choice? Or will you embrace your new path? Each morning you choose to move forward or to simply give up."
"Yes, losing your hearts desire is tragic but gaining your hearts desire? It's all you can hope for, this year I wished for love… to immerse myself in someone else and to wake a heart long afraid to feel. My wish was granted and if having that is tragic then give me tragedy, because I wouldnt give it back for the world."
"One day, you're 17 and you're planning for someday. And then quietly, without you ever really noticing, someday is today. And then someday is yesterday. And this is your life."
So thank you 'One Tree Hill' for giving those who watched while we were filled with teenage angst hope.
For the record I always think I am as dark and broody as Peyton but I think I am a solid mix of Peyton and Brooke, even though Rachel will always be my favorite.
As for guys on the show? I will take Jake any day over the Scott brothers.
Visit: Celebrities Are Tragic || Facebook || Twitter || Instagram