Hey everyone! We are so happy to be back guest blogging for Celebrities Are Tragic! This is always such a fun thing for us to do and we love the fashion of any award show, but something about The Academy Awards is just so magical.  We were surprised this year by the lack of dresses that we loved. There were plenty of ones we didn't like but we like to spread fashion positivity  because those women felt beautiful, so who are we to tell them they're not?!  We kinda wanted to do a best dressed after party list because that is where the fashion was! We did include on look from an after party so keep on reading to check who made the list! Congrats to all the beautiful ladies who were nominated and who won! As always feel free to follow us on twitter! Thanks Willi Killiams!
Hannah: @hannahe_beauty
Emily: @Iamemilycohn
5) Elizabeth Banks in Elie Saab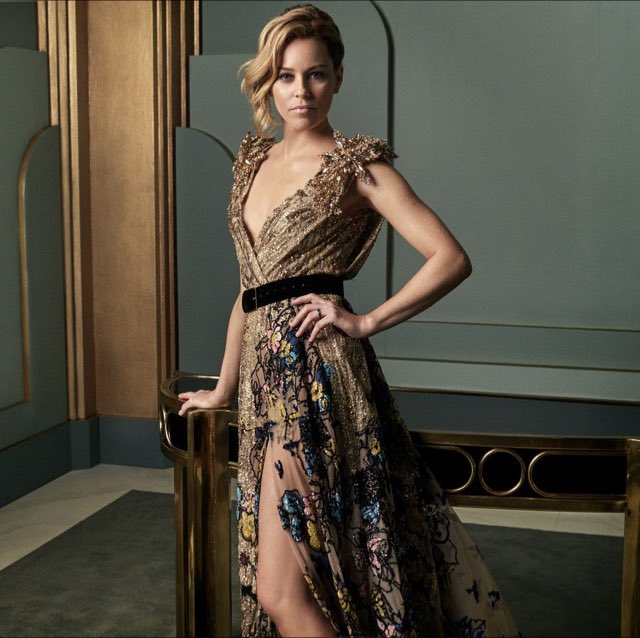 We decided to add in an after party look because we honestly didn't have many favorites this year, which is shocking because usually everyone brings it! But when we saw this dress we had to give it a shout out! This was the perfect party dress to show up in.  We loved the gold color with all the butterfly and flower appliques looked like they were floating on her dress. It was the perfect combination of fun and sexy.  We loved the shoulder detail and black belt. We were so happy she wore her hair up because when you have a dress like this, you don't want to take away from it. Overall she nailed it! Best After party dress for sure goes to Elizabeth.
4) Hailee Steinfield in Ralph & Russo.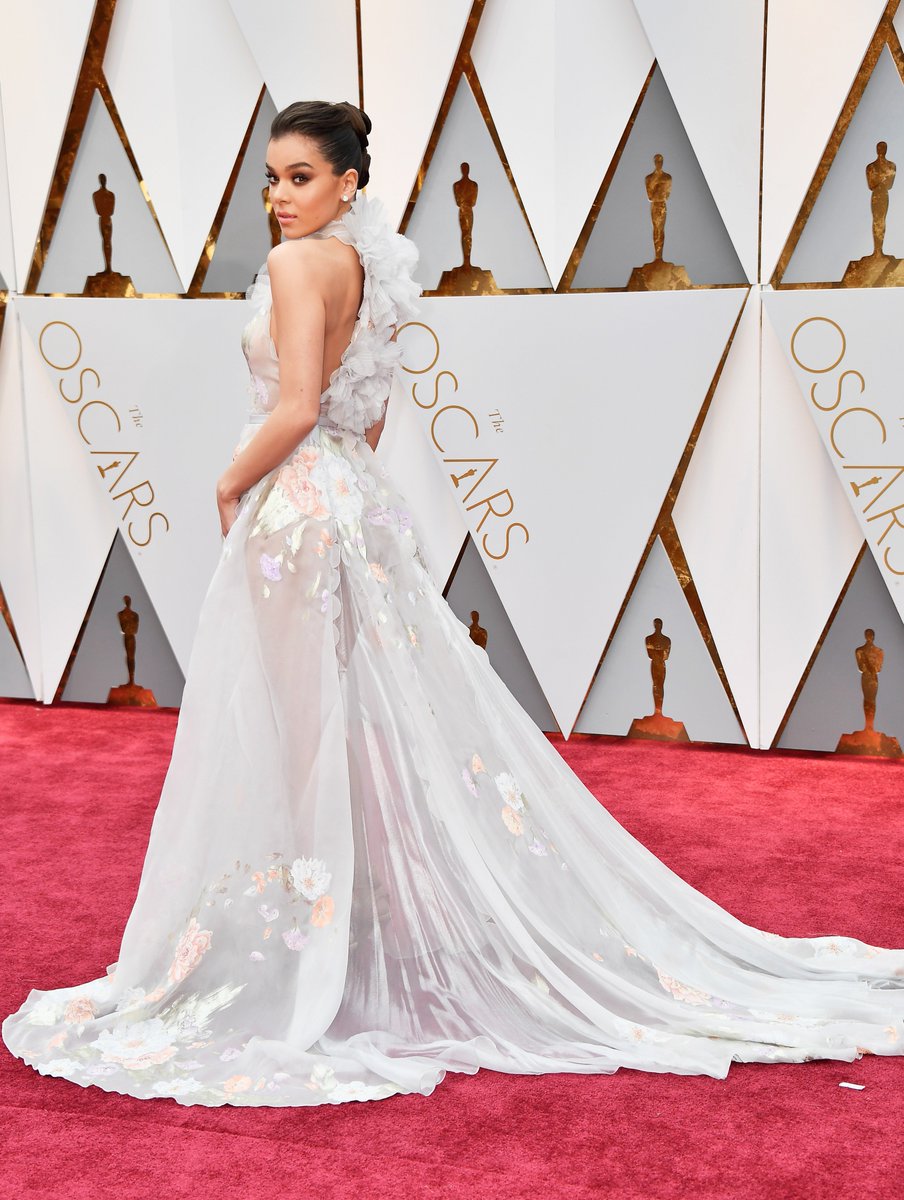 This dress was so elegant and girly. We were obsessed from the moment we saw it! Her designers had a painter flown in to hand paint the dress while she was in it so the flowers could all be appropriately placed because the fabric was so sheer. That is couture! Her Smokey eye was beautiful and brought the drama. We loved that she kept her hair up to show off the high neckline of the dress.
3) Taraji P. Henson in Alberta Ferretti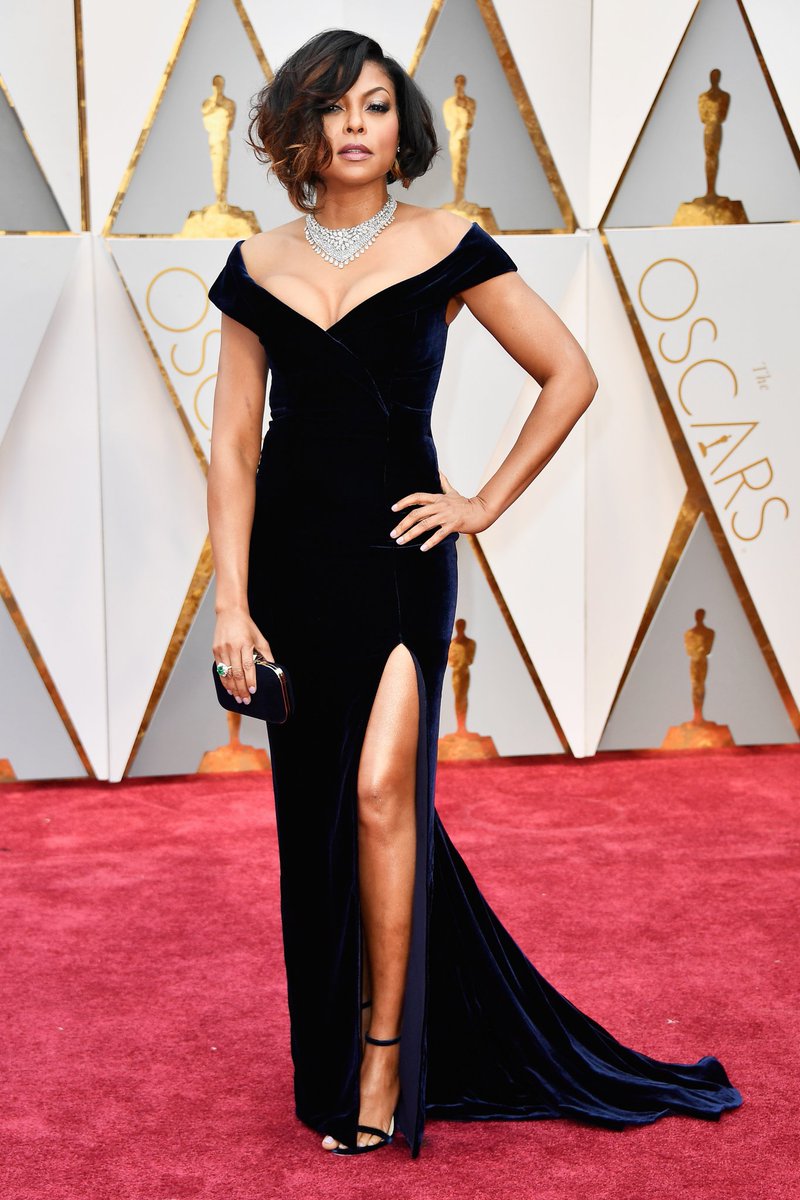 She brought the sexy to the red carpet! Everything from the silhouette to the neckline was stunning. It looked black on TV and pictures but it was actually a deep navy blue.  We loved the simple shoes because her necklace was so extravagant. We also loved that she did a bob hairstyle to show off the deep v-neckline and necklace. Loved it!
2) Janelle Monae in Elie Saab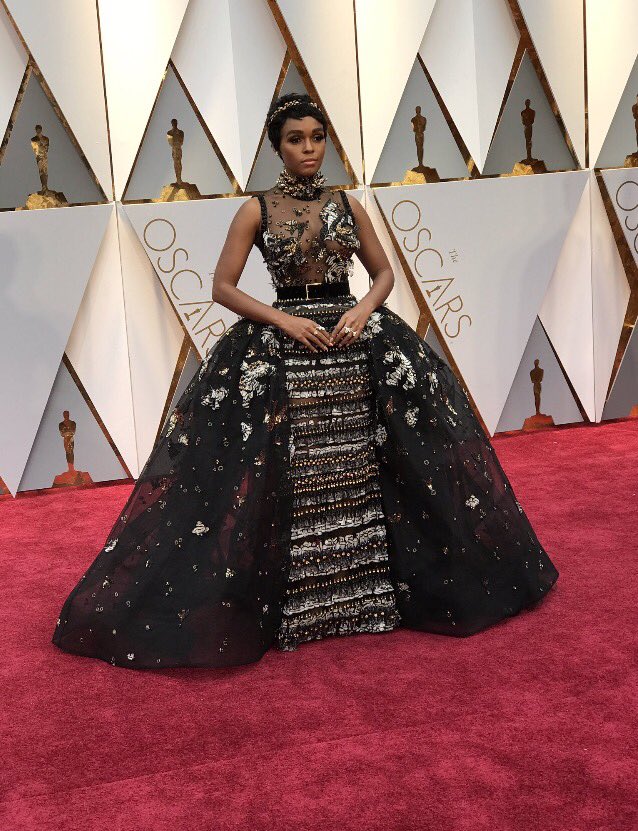 This dress will go down as one of the most iconic Oscar dresses in history. She looked like a regal queen floating on the red carpet. There was so much detail in this dress. We loved the bodice, it was totally giving us Halle Berry  vibes circa 2002 when she won her Oscar. The sheer fabric with the lace beaded appliques were stunning. Hair and makeup was on point! She has dream eyebrows that we all want!
1) Viola Davis in Armani Prive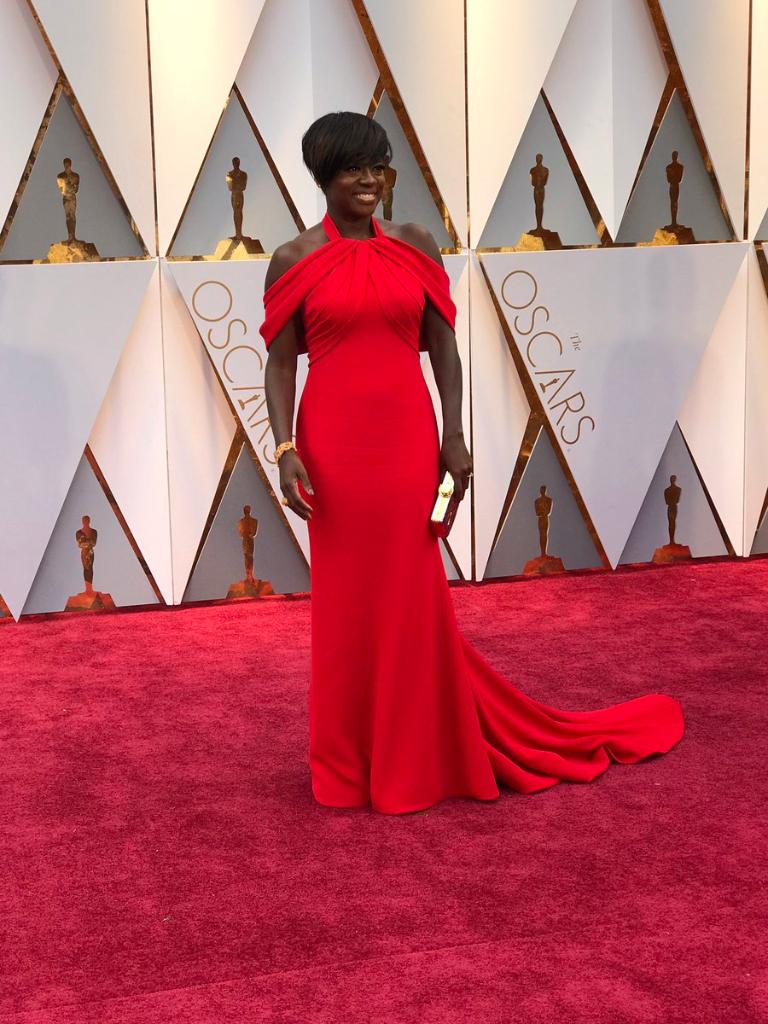 SO beautiful. Everything about this dress was amazing. The silhouette, the color, the neck line. Just perfection! Her hair and makeup was flawless. This was a dress to win in! Aside from looks, her speech was so inspiring and she moved us to tears! Congrats Viola, we love ya!
Visit: Celebrities Are Tragic || Facebook || Twitter || Instagram