Now there have been a lot of things that Bieber has done to make me dislike him, I won't list everything but walking around barefoot in a city is probably one of the grossest things he could do. I mean I have been to Boston plenty and I promise you that is not somewhere any sane person would want to walk around without shoes.
Bieber is currently in town because he is playing back to back sold out shows at the TD Garden, so today he made the most of his day off by strolling around the Boston Commons and removing his shoes as he did so.
I have a theory that Bieber is heading to a Britney Spears circa 2007 meltdown and I think this confirms it. Remember how it all started for her? She was walking around barefoot at gas stations and other places.
This is clearly a cry for help! No one should ever walk around any city without shoes, between the needles and the old gum glued to the cement, its disgusting.
Justin Bieber em Boston (09/05):

#MtvIntHitSorry #MtvMiaw https://t.co/gTHO9xxyDc—
Projetoojbbr (@projetoojbbr) May 09, 2016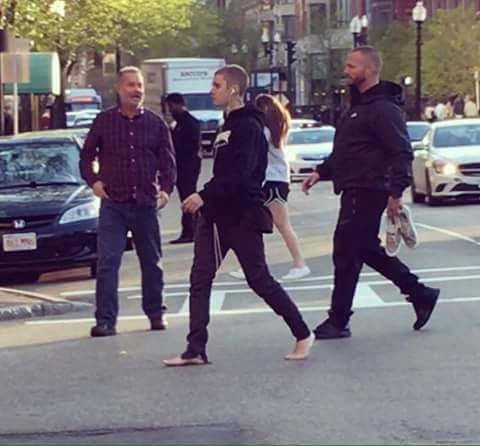 Visit: Celebrities Are Tragic || Facebook || Twitter