So last night Demi Lovato got pretty fired up on Twitter about how there are certain feminists who aren't doing enough about the Kesha vs Dr. Luke controversy that is currently going on. Honestly at first I thought, okay that is clearly about Taylor Swift and she should say something. Taylor has a platform not many other artists have. She can take down streaming sites, she can mail her fans gifts, certainly she can speak on this and it is a shame that she hasn't.
Then Taylor donated $250,000 to Kesha to continue on with her court hearings and everything else. Kesha's mom announced it, Taylor didn't say anything about it. She just quietly donated money, no announcement. After it was confirmed though, this happened on Twitter.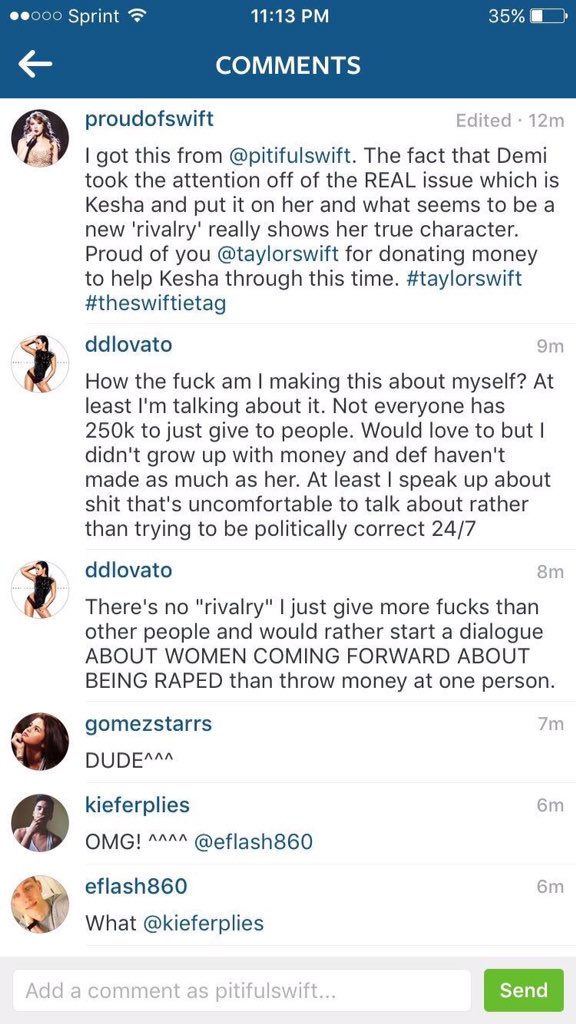 So I mean, if that isn't shade I don't know what is. Demi went hard on that Instagram post.
Clearly someone in Demi's camp told her that she needed to smarten up because Taylor Swift runs the world so she needed to apologize.
Demi went on to say this.
As most people know, I tend to get fired up about the things I believe in, and although my heart and intentions are always in the right place, unfortunately sometimes my passion gets the best of me and causes me to say things that I probably shouldn't say, and when doing so takes away from the real reason I am speaking up in the first place. Our focus should be on the topic of victims of sexual and physical abuse being afraid to come forward with their stories. They're more likely to face retaliation and harassment than to see justice being serviced. Especially women.It baffles me that when it comes to serious issues like equality and abuse, too often women are not taken as seriously as men. All I want to see is women coming together and actually making a difference. A real change and shift in society. Everyone has their own way of giving support to others, and at the end of the day, helping victims is all that matters. Ultimately, the message I want people to hear is it's okay to come forward with your abuse and if you do decide to take action, you are not alone.
I am just going to sit here and sip my tea while Demi continues to back pedal.
Truth is that whether it is donating, speaking, or boycotting Sony music, any action is a step in the right direction.
#SaveKesha
Visit: Celebrities Are Tragic || Facebook || Twitter