So there has been a rumor going around that Calvin and Taylor have broken up because he was spotted coming out of a massage parlor that is known for giving "happy endings". If you don't know what that term means I suggest you go to urbandictionary.com and look it up.
I have a feeling that this relationship has faded because it's fake. Yup! I said it! I have said it from the start, I genuinely think that this relationship is staged. I mean they haven't been spotted together for a while, which isn't a huge surprise. Taylor is off being a global superstar and Calvin Harris is doing whatever Calvin Harris does. I genuinely feel like this couple has been together for the publicity. Taylor went from being very private with her relationships to not only talking about this one, but letting her friends go around talking about it too, something is fishy to me!
People are saying that they didn't break up, well now they didn't break up for this reason.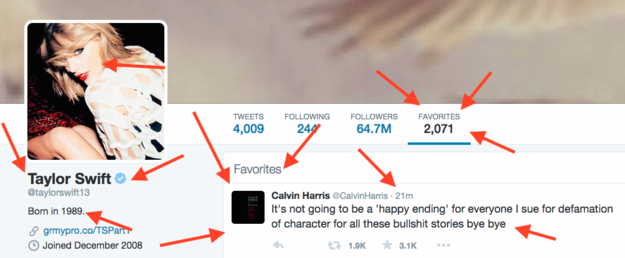 Boom Taylor favorited that tweet! Boom, they must still be together.
Meh, does it really matter? This fake relationship will run its course sooner rather than later.
Celebrities Are Tragic Facebook page! Be sure to follow me on Twitter @WilliKilliams